Oh what a beautiful weekend it was.
Lots of sun, kids running around outside, my Miss Lily rediscovering the joy of water play, yummy salad rolls for lunch and BBQ's for tea. Roll on summer and with the children starting school holidays later this week the weather couldn't be looking better. I do love the September school holidays, truly a time to sit back enjoy and reflect what has been the year that is drawing to a fast close but on the scary side, it's long log until Christmas (sorry if that really does scare some!)
My weekend started on Friday afternoon with an impromptu visit to a furniture store where I found these two cushion in a $5 bin ...... WOW just had to have them as I knew that I still have a Hometown Charm pack at home and I had mentioned a desire to make some cushions, well now I only need to "half make".
So from this on Friday afternoon........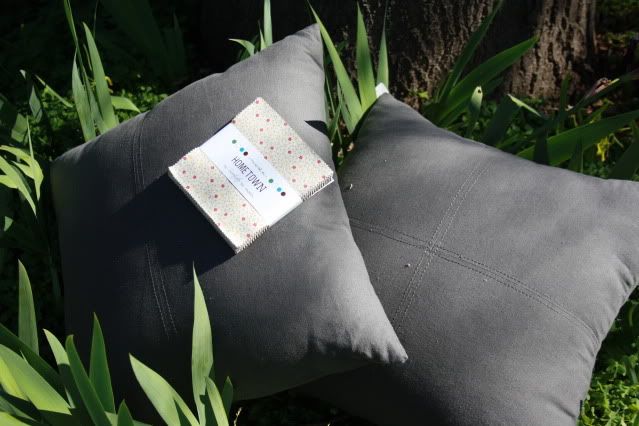 To this, just finished this morning ........
I think that they tie in with the table runners on the buffet and table (in the background) just perfectly :)
Birdie Stitches
I also managed to get up to date with my Birdie Stitches with the September Block now a finish.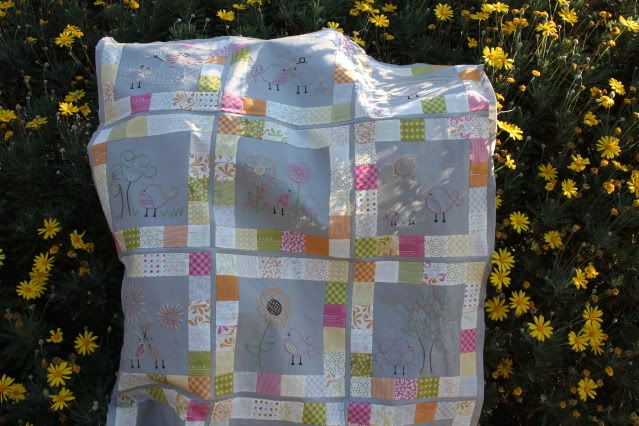 whoops, should have given it a quick iron :(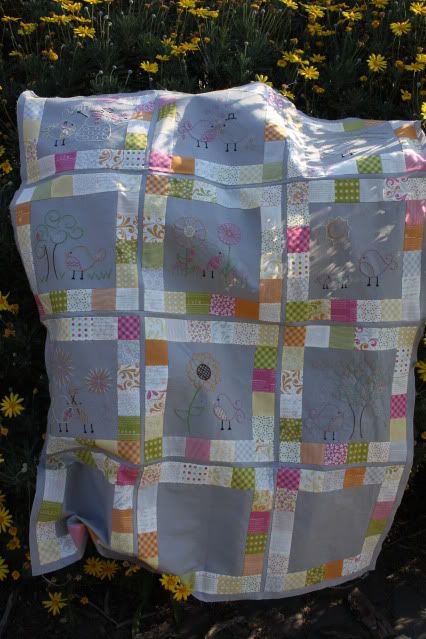 Scrap Rainbow Quilt - Progress
Pink Blocks are a finish also. I now need to go digging for another color, I think Blue might be next :)
I also managed to get a couple of hours of sewing done on my Vignette Mystery Quilt whilst I took my Boys to a local Skate park. It was a win win for all three of us!
Lastly, we got started on our veggie patch. We ran out of "oomph" with the weed pulling but being that DH had already purchased some lettuces we had to get them in the ground.
Hope you had a lovely weekend
and happy stitching,
Sharon