I am so excited that this one is finished!
Simple Things - Ruby Edition
I made this quilt by partaking in the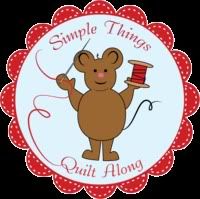 back in the first half of last year and if my memory serve me correctly it way my first ever Quilt-along.
I knew back then that I wanted a border so I had to just sit and wait for the yardage to come out and I have only recently decided on the Binding and backing fabric (Bella Solid in the light Blue to match the blue spot binding).
Got it all together, basted it Saturday and quilted and stitched the binding Sunday.
Finished Size approx 49" x 49"
I absolutely
L O V E
this quilt ....
the pattern, the fabric and the lovely group of ladies that I made it with.
It is a keeper and it is staying right
Here, where I get to see it every day :o)
Not only is this my first Quilt finish for the year it also means that I only have one UFO left.
I might share that one with you soon as it might make me kick myself in the butt and get it finished .... can only hope!
Thanks for stopping by. I'm off to dig out my Kits once the kids have left for school and see how many I really have :o)
hugs, Sharon