Are you interested?
I am "toying" with the idea of hosting a Rainbow Charm Square Swap for Australian and New Zealand residents so this is my official call for your "Expression of Interest"
If you are interested kindly leave me a message at the bottom of this post and please, if you are a "no-reply blogger" I need a way to contact you so I suggest that you change your setting to take part.
At this stage there will be no commitment, I just want to know if it is worth going forward the next step.
As a basic outline it would run as follows:-
This swap will be based on the color wheel.
1 yard of fabric cuts up to 56 charm squares so that would be an idea number of participants.
Each participant will purchase two different fabrics-- one yard each. They will then cut those into 5" square charms and send them to me.
Quilt-shop-quality fabric only please
If there are 56 participants, each person sends 112 charms (56 charms of each fabric), and I'll send you 112 different charms from other swappers.
I would assign everyone two different colors (blue, blue-green, green, green-yellow, etc.) and you would need to purchase the fabrics in your assigned colors.
If all runs smoothly I may consider running another round but firstly, this round would be for print/ tone on tone fabrics only. Other rounds might be for Solids or Jewel Tones (colors with Black mixed in) The fabric must represent the assigned color, but does not have to be entirely that color. It would be advised to avoid large-scale prints as they will be cut to 5" squares. You would be asked to keep this in mind when choosing fabrics.

I would set up a Flickr group for photos of fabrics to be posted so we can try to eliminate duplications.
Fabrics would need to be new and unwashed.
When mailing your fabric, you must include a self-addressed stamped envelope. If you do not send a SASE with the correct postage, you will not receive your charms back. (Just use the same postage you used to get your charms to me). Place your fabric in a heavy Ziploc or other plastic bag. Include a note listing your name, address set. Fabric details would be put to Flickr when uploading photos.
New Zealand participants can pay return postage costs to me directly by Paypal (this is what I have done for a Xmas charm swap and it works well).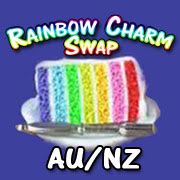 So if this sounds like something you might be interested in please leave me a message. Also suggest a start date ...... soon or after Xmas ...... or in the new year?
I would love to make another Rainbow quilt
How about you?
Looking forward to hearing from everyone,
Sharon