Our Entrance has become a place of change.

It used to be the home of my Old English Pram but got moved out late November
to make way for my New Christmas Quilt and now it (the Pram) has a new home in the lounge room.
But it's not Christmas now and all the decorations have been packed away.
So I decided to pull out my Teddlywinks Quilt that I finished last year and hang it in its place
It looked OK but it was missing something, a bit of depth.

So I went Ebay "surfing"
I have always admired the Old Singer Sewing Machines
Always wanted one to but never done anything about it
Until now :o)
I found this old one. Bid to $30 (I know, last of the big spenders here!)
The seller said it was showing it's age and the wood need sanding etc
So I patiently awaited the couriers arrival and then carefully unpacked it, not sure of what I would find.
Well I was over the moon :) Not as bad as I thought it was going to be.
A good clean down and then a polish for the wood and I think I now have the perfect piece with "character and charm".

And the bonus ......
My entrance now displays two quilts

If only I could paint that horrible Yellow wall
but I will work with what I have :o)
Have you noticed my new header?
My new purchase has inspired some changes so I will be doing a little
"tweeking" over the next few days.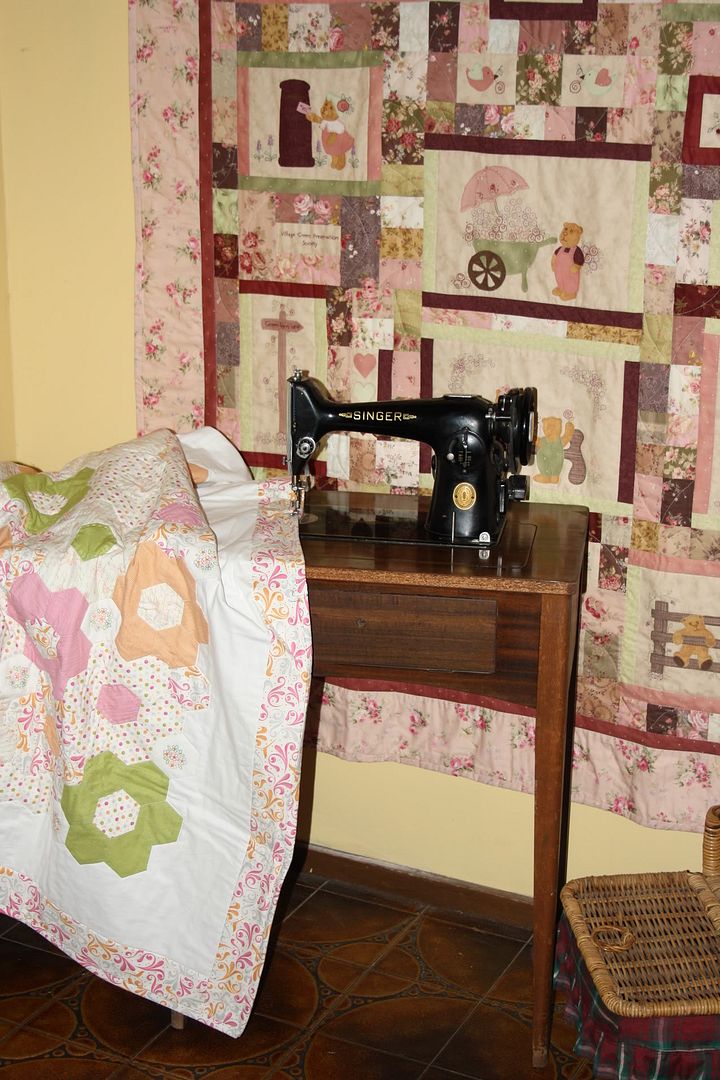 Now I wonder ... what are my chances of finding another Singer Sewing machine, one
with the intricate gold detailing and on an original table for $30? ..... No didn't think so.

Maybe I could just get some Old Wooden Cotton Reels?

Thank you for stopping by,
and I wanted to send a huge thank you to everyoe who has commented on my Swoon Quilt.
I appreciate you all taking the time to leave a comment but I have been unable to reply to all individually sorry but again, a HUGE THANK YOU.
Enjoy your creativity,
Sharon