Yes I know. My blog has gone a little quiet for the last few days after it went gusto for the few days before that. I am hoping now that it will return to "regular programming" and settle down a little.
Why did it do this? For those who read my blog regularly will know that my dear brother-in-law passed away a bit over 2 weeks ago and finally we were able to lay him to rest and celebrate his life on Monday afternoon. We are now back home and getting back into the swing of our daily life again.
School holidays are finished and the three eldest Children are back at school which now leaves Miss Lily to get back into the routine of only having me around most of the day! Some days I feel a little greedy having her all to myself, she is such a pleasure to be around, always happy and such a girly girl :o) Maybe I am just savouring every moment knowing that she is our last and I wont be doing this again.
Anyway...... what has been happening on the sewing front .............. a quick round up on the WIP's
Scandinavian Christmas
- Need to purchase the backing fabric and finish it off.
Once Upon a Time
- Whoops, I have two blocks to do on this one then back up to date.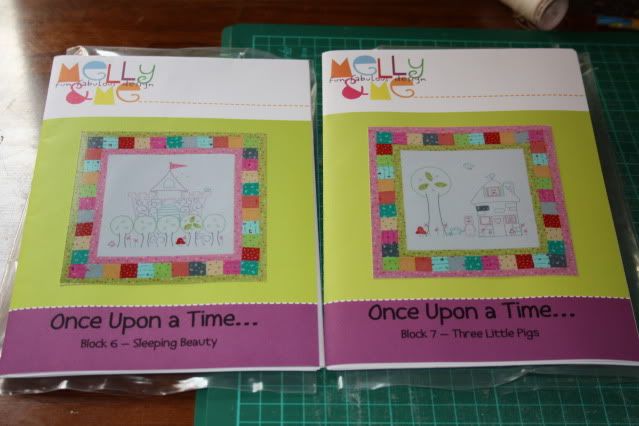 I got to pick out the boarder fabrics for the outer boarders on this one yesterday so I have gone with pinks to make it all girlie for Miss Lily :o)
Vignette Mystery Quilt
..... Slow progress on Block 4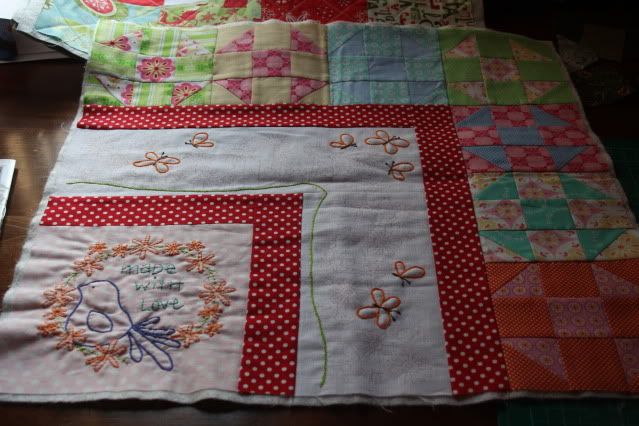 Farmer's Wife
- Hmmm...... I need to clean off my cutting table and cut a couple more out.
Accountability Projects
- 8 Christmas Place mats - I have finished off the raw edge applique of the names and have begun to quilt them. I have purchased a Jelly Roll (arrived in the mail today .... yay) to use to make a scrappy binding so progress on this is well and truly happening.
This quilt (below) is not being cut up, it is going to have a boarder or two added down the track and finished off.
Thank you to everyone who helped me in making this decision.
Your feedback was greatly appreciated.
Scrap Busting Rainbow / Postage Stamp Quilt
I was going to use only scraps but have needed to purchase some more white as I have decided to add a wider white boarder and then finish off. Hopefully this boarder will be on in the next day or two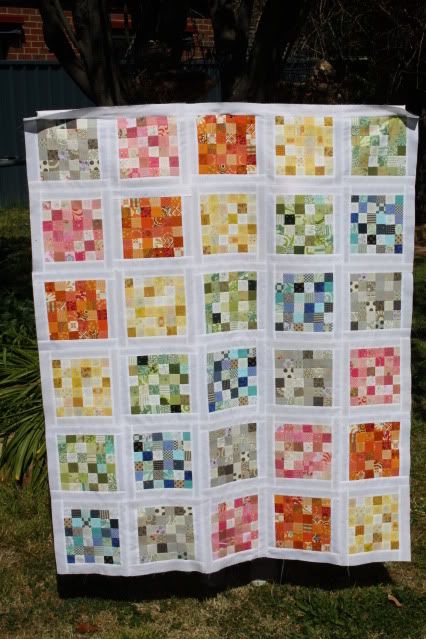 My .....

now looks like this .....

Lots of Charm Squares

Last but not least .......... I purchased this yesterday .......... and I LOVE it .........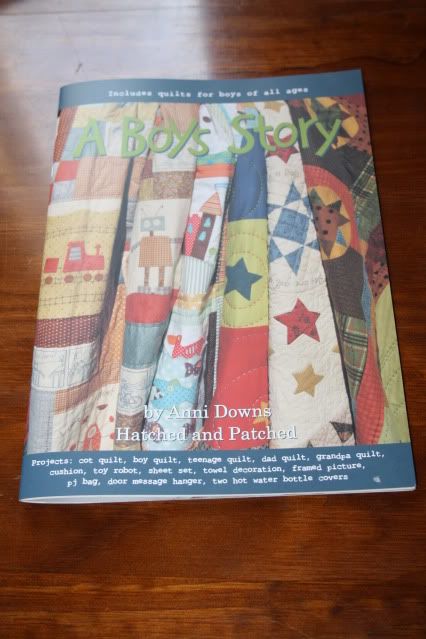 and I have the PERFECT little boy to make the quilt for so it's on the to do list :o)
Thank you for stopping by and
Happy stitching,
Sharon