I feel like I should be opening a bottle of wine for this one!
Please allow me to proudly show off my
as a flimsy :)
Back on the
7th August 2011
it looked like this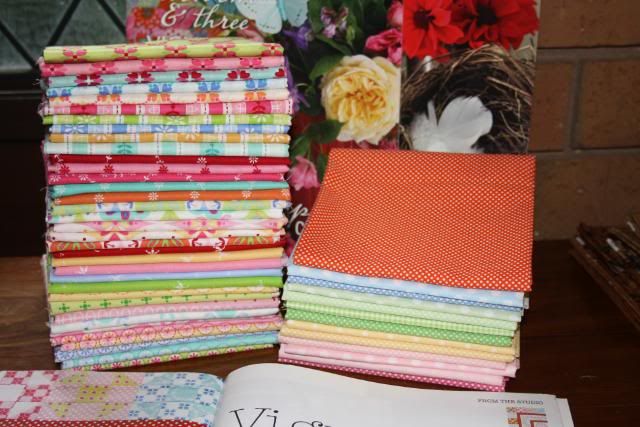 \
And now like this :)
I am so pleased that I stuck with this project.
It is the most labour intensive project I have ever worked on.
If I had not started it when I did and with the naivety of a
newby quilter I don't think I would have ever made it.

I am now so pleased that I did and it is now a Flimsy.
At times I have wished that I didn't do the Needle turn,
it is by no way perfect but it does reflect part of my journey
with this Quilt.
Another journey is about to begin with this Quilt.
I was going to send it out to be professionally quilted
but now I feel I need / want to give it more of my time and
hand quilt it so I have been out and purchased a hoop
and some supplies.
Now, do I make a scrappy back out of the left over fabrics?
or is this not such a great idea being I am going to hand quilt it
and with all those extra seams etc?
Also, I cant help but look at these photos and think twice about
stashing fabric, they are so pretty when they are made into something
and not hidden away, waiting to be used.