Confessing my Kits
OK, a couple of posts ago I asked, How many kits do you have?
It seems that it really ranges from only a couple right through to the "I'm not even going there" or "To many to count" replies.
Here are mine. Now bear in mind I have only been quilting for such a short time so have not had a lot of time to built a collection up but either way I don't think I'm doing too bad ... or good .... depending on how you look at it :o)

First one up is
Girls Day Out
, then
Down the Garden Path
(another Gollie Quilt, I will try to share my other Gollie Quilt with you soon as it's my only UFO at the moment) and then I have
The Adelaide Collection
Sampler Quilt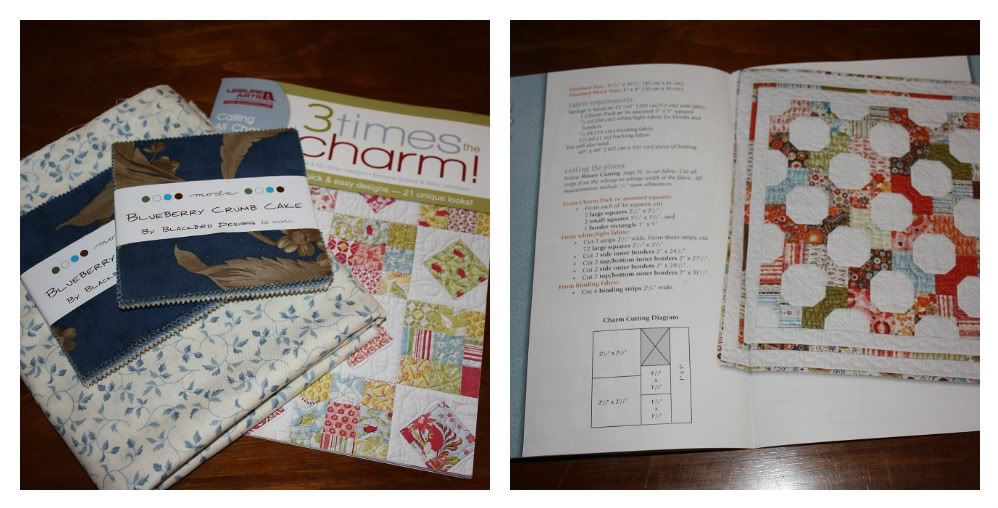 This one will be for my Mum, she knows nothing about it yet :)
This book, "3 Times the Charm" is full of patterns that only need one charm pack and a little yardage so for mums quilt I am doubling the size!
I have been wanting to play with Blueberry Crumb for a while so I am looking forward to getting into this one and being my Mum thinks the Internet IS Ebay (I know, I have tried to explain it to her but she just doesn't get it) I have no fear of her seeing it here on my blog! lol
and ..... look what I have :o)
yippie skippie!!!!!
I am like a pig in mud having my very own Vintage Modern Laye Cake.
If you are a regular reader of my blog you know that I love Bonnie and Camille's fabric lines and I was so lucky to get my hands on this one on Friday morning.
By Friday afternoon I found a pattern and a beautiful Blue solid to go with it so maybe this will be the next one my to do list :)
Looking forward to adding more kits to my collection ... just don't tell the family!