My School reports never said "easily distracted" but now, at this age and time in my life I am!
For some time now I have know that I want to make a rainbow quilt of some sort. There are so many types out there and I quite often find myself surfing the Internet looking at images of Rainbow quilts. I knew that some time in the future I would. But now this desire to make a rainbow quilt is in my head again and is beginning to hurt, so I have to do something to "let it out" and release the pressure!
Then some time last week I read a post over at
sewmamasew
. They are hosting a contest, it involves writing a tutorial etc. I have no interest in participating in the contest (I don't think I could write a tutorial, I'm just not that clever!) but it did get me to thinking about my slowly growing scrap piles.
So you know where I am going now? Yep a Rainbow Quilt made from Scraps.
After looking at many, many, many photos here is the design inspiration for my quilt.
Sorry I have had this photo saved for a while now,
that I can not find who made it to give them
the credit that they deserve.
This will be a long term project for me as my scraps allow. I also find that every now and then I need a sewing fix and I am thinking that these blocks will be my sewing fix. I just seem to have so many hand stitching / embroidery projects happening at the moment so this will be a welcome change for me.
Friday night, with the help of my 12 year old son we went through some of my scraps and started cutting ....... yes I know, I don't need another project, but this is relieving a headache, hopefully not creating one and lets face it, patchwork/quilting is addictive.....
"Hello, my name is Sharon and I am a quilter!"
I have decided to do my blocks in a grid of 6x6 (36 squares per block) and 5 blocks of each, therefor I need at least 180 blocks of every color. So I started with the fullest of my scrap boxes,
Yellow
,
Green
and
Pink.
So far Yellow and green are sewn and not long before I have enough Pink squares to start sewing them.
Let me share the beginnings of my
Postage Stamp Scrap Quilt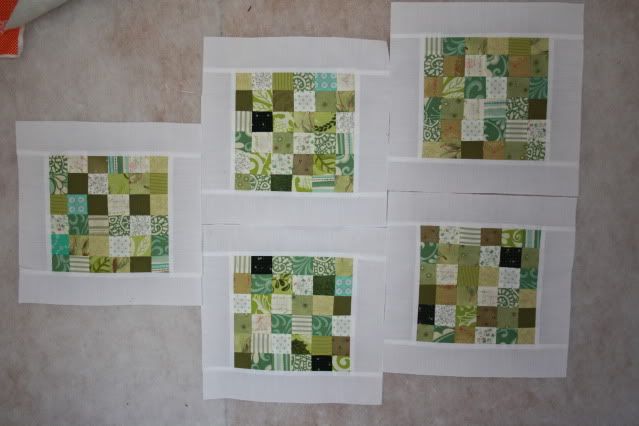 Thank you for taking the time to stop by.
Happy stitching,
Sharon