"Fractured"
Last September I started the
"Pervalong"
with Charlotte over at
Displacement Activity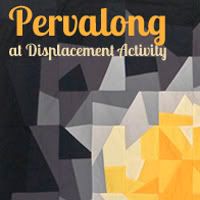 This was as far as I got.
Until the other day when I found the above blog and decided to turn
this forgotten UFO into a finish. Those who follow me on Instagram (lilabellelane)
would have seen these picturess pop up over there as I was working on this one.
First I doubled its size then realised that I have lost the
piece of paper with the colours that I've used listed so purchasing of more
fabrics to finish it as per the
Quilt along
was not an option so I decided
to go into "freestyle mode" and see where it took me.
After looking at the
Flickr group
I decided to be different
and set my middle blocks on point but it still needed something.
Ahh, I like this :o)
The two pieced borders are 3" and the other 2 are 2"
Then did a little machine quilting and some hand quilting.
I am now pleased to say that it is finished.
I LOVE my new Modern Mini Artwork.