R

a

i

n

b

o

w

/

Postage Stamp Quilt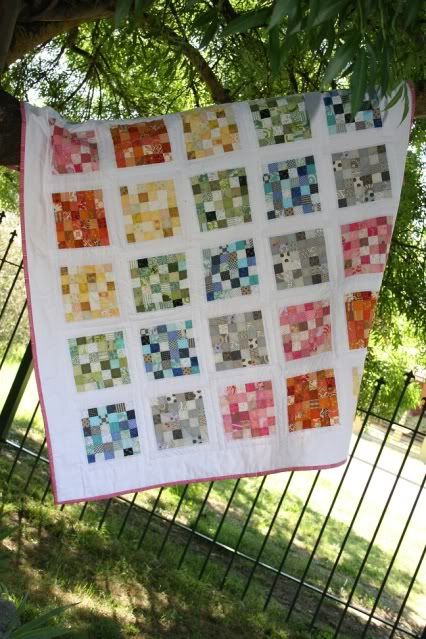 This quilt was originally started to "Bust my Scraps" and help me satisfy a desire to have / make a rainbow quilt. It also featured in my last post "Exploring the Process".
I can now happily say that I am pleased with the way it has turned out. The flower quilting served its purpose and I feel, add a little "extra" and did not make it too stiff (I personally prefer quilts that are soft to snuggle under and not stiff from heavy quilting).

Before the binding.
This is the first time I have done more that "in the ditch" or 1/4" borders when quilting a quilt so it took me outside my comfort zone and I am looking forward to trying it again.
Ideally I would have loved to put a binding on that was a multi colored stripe but in keeping true to this quilt (being a "Scrap Buster") I decided to go with something that I already had. I have used the Pink Sunkissed word print (I have a little thing for word prints).
Finished size is 47" x 54"
I can see another rainbow quilt in the future ....... just need some more colored scraps and then go again!
How do you use your scraps?